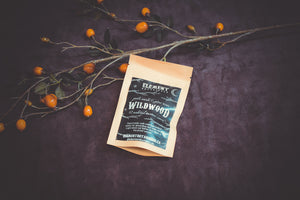 Triple scented, all-natural incense made with grounding resins and energizing essential oils. Handcrafted extracts of wild-harvested lodgepole pine and palo santo are blended with earthy cedarwood, fir needle, poplar bud, and evergreen to produce a gentle, all-natural, high-quality aromatherapy incense, free of synthetic ingredients.
12 cones per package. Never leave burning incense unattended.

Amber (she/her) and Hardy (he/him) create botanically charged, aromatherapy spiked goods, featuring wild harvested and home grown plants, all of which have been carefully chosen for their various benefits and uses in traditional folk herbalism. Each product is made by hand, with love and of course, a little element of magic.