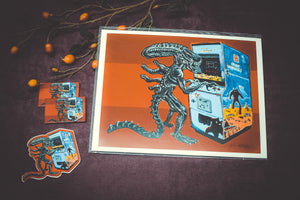 Dimensions:
Print: 8.5" by 11"
Magnet: 2.75" by 1.75"
Sticker: 4" by 3"

Patches: Handmade by artist Brandy Wolff. Size and backing felt colors may be different than pictured.
Eli Wolff (he/him) is a Seattle artist who loves horror movies and pop culture. With a big dose of humor, his paintings and illustrations are inspired by this love of the creepy and silly. He enjoys creating visual puns and clever mash-ups of all manner of characters and creatures.