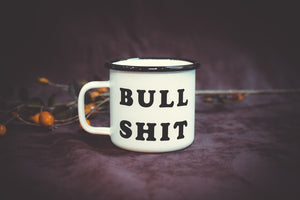 For fans of The Jerk, the perpetually fed up and the not so morning person, this one's for you! Available in enamel or ceramic (not pictured).

12 oz. Handwash only. Do not microwave.
New Rose Designs features unique housewares inspired by horror, cult films and vintage aesthetics. All items are handmade, adapted and designed by Sarah Sheikh (she/her) in her Seattle, WA home where she lives with her husband, cat and two pups.